How can high schools play tackle football 6 feet apart?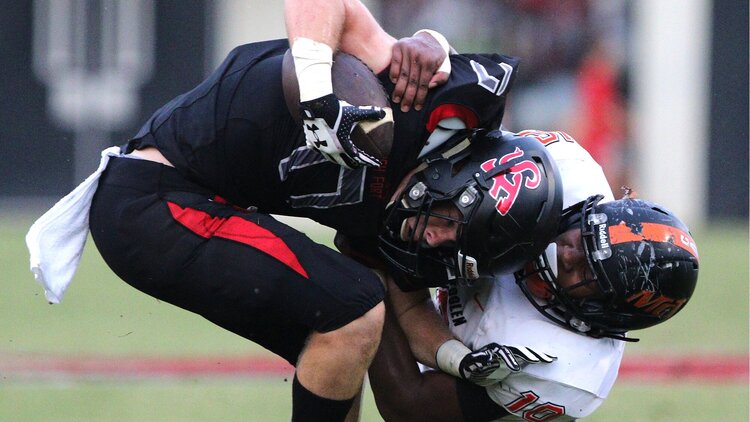 Jayme Murphy played football at the University of Iowa. He also got a master's degree in public health while studying epidemiology. These days, he charts COVID-19 trends as the director of insights and business analytics at the National Sports Center in Minnesota, where he helps guide the state government's process that determine when certain sports can resume for kids.
Murphy loves football. But ask him how youth and high school football can responsibly return during a pandemic and he struggles to answer.
"I don't know how you do it," Murphy said. "You can't play the game without close, physical contact. I think of all the pile situations after tackles. It's not just the tackling and the contact. You want to avoid close-contact breathing, which is every play. This would be a great year to figure out flag at lower levels with skill development."
America will likely soon engage in an intense debate over football. Will the country's most-watched sport be played this fall? And if so, how?
Dr. Anthony Fauci, the director of the National Institute for Allergy and Infectious Diseases, told CNN earlier this month that unless NFL players are insulated from the community and tested nearly every day, "it would be very hard to see how football is able to be played this fall." After President Donald Trump rebuked Fauci's warning, Fauci said his comments were misinterpreted and that the NFL's future will be dictated by the outbreak. "Optimally you would want to see the level of infection dramatically decreased and good control of any evidence of resurgence," Fauci told Sports Illustrated. "Again, the officials of the league in consultation with the players will make their own decisions."
The NFL and college football are planning on seasons, though a rash of college players have already tested positive, causing some universities to shut down summer workouts. But what about at the youth and high school levels? COVID-19 cases and hospitalizations are spiking with record highs in Florida, Texas and South Carolina – rabid football states where the sport is embedded in the culture as much, if not more, as religion.
"Listen, youth football runs in my bloodstream," said Omar Hassan, who used to run a dominant Pop Warner league in Miami and whose son plays football at Navy. "But how can any parent really allow their kid to play youth football when there's no (financial) resources there? Look at what happened with LSU and Clemson – double-digit numbers of kids who got the coronavirus. Let's sacrifice youth football for one year so you can preserve it for the future. If you play it this year and the pandemic hits hard, I don't think a parent will ever do youth football again."
According to a USA Football survey of youth sports parents with kids ages 5-14, 61% said they think tackle is a high risk during a pandemic compared to 30% who say the same of flag football. Meanwhile, 56% of senior-level sports industry professionals expect youth sports participation rates for high-contact sports like football to decrease after the pandemic, according to the MarketCast Sports Poll. They predict a much lower participation decline for low-contact (15%) and non-contact sports (6%).
IS FLAG A BETTER OPTION THIS FALL?
USA Football's new COVID-19 youth football guidelines for a phased approach acknowledge that tackle football is classified as a high-risk sport during a pandemic whereas flag is medium risk. So, why not decide now to play flag this fall instead of tackle?
Michael Krueger, USA Football director of coaching, said football decisions will need to be made regionally and locally through public health authorities. "If moving to the spring works for your community and you can make it work with recreation departments, more power to you," Krueger said. "If you say we can't do full tackle seasons but can play non-contact versions, we want to provide those resources and support that too."
Dr. Michael Koester, chair of the National Federation of State High School Associations (NFHS) sports medicine advisory committee, said he could envision flag becoming a popular option this fall if schools return and the public is not comfortable with contact.
"Everybody wants to hang onto the idea we'll be able to play (tackle) football and plan that way," said Koester, who collaborated on the USA Football guidelines. "But if that doesn't happen, I think you're going to see a variety of activities like 7-on-7 football."
Even before the pandemic, flag football was the most commonly played form of the game for kids ages 6-12. In 2018, 989,000 kids at that age played flag compared to 839,000 in tackle, according to Sports & Fitness Industry Association data analyzed by the Aspen Institute.
Luke Zaientz, CEO of Reigning Champs, said flag football has structural differences that could reduce the risk compared to tackle. There are far fewer players on the field – NFL Flag has five per team vs. 11 in tackle – and on sidelines. There's less sustained contact. There's less equipment to sanitize. There are rules that space out players more on the field. And the entire flag experience is played outside, as opposed to indoor weight-training associated with tackle.
Former NFL player Izell Reese, who manages NFL Flag for Reigning Champs, said NFL Flag will not try to encourage tackle leagues to instead play flag this fall because COVID-19 guidance constantly changes. Reigning Champs owns products designed to market high school football players and other athletes to colleges. "We're not saying flag is an alternative and choose flag over tackle," Reese said. "Could it happen? Possibly. But I sincerely hope tackle does happen. To have a year where there's no tackle would be tough at the youth and high school levels. There are a lot of high school juniors and seniors vying for that opportunity to play at the next level."
Dr. Neel Gandi, an infectious disease expert at Emory University, said many dimensions of football's return make him "quite uncomfortable." He worries about the virus spreading through droplets within tackle piles, huddles, sidelines and locker rooms. Players could unknowingly transmit the virus to peers or family members and other community members, some of whom may be at greater risk for severe illness.
"I'd like to see a conversation about what the goals are for football this year," Gandhi said. "We know this is not going to be a normal football season. Is it about wins and losses, or something else? It seems like we want our kids to grow and continue playing the sport and not lose their skills. You can do that without playing 10 different teams, if that's the goal."
CAN TACKLE RETURN THIS FALL?
There will likely be communities playing tackle football this fall. It's too embedded in the fabric of some communities to not play. And some states, cities and counties could have little to no spread of the virus. For some kids, football is the only physical activity they receive.
"We're planning to have a season," said Jon Butler, executive director of Pop Warner, a major provider of youth football in communities across the country. "I think it's going to vary geographically. We know we're going to be down significantly in (participation) numbers. At the same time, we're preparing for our Pop Warner Super Bowl and want to do something to keep the momentum."
Still, flag could be safer than tackle to mitigate the risk of spread, said Zach Binney, epidemiologist at Emory University.
"I think it's something to consider if your league is staying open," he said. "It's the whole idea of harm reduction in public health. In the South and Texas, I do think it's our responsibility to meet people halfway and teach them how to reduce the risk for something they love, and hopefully they will listen."
In addition to flag, other suggestions by Binney to mitigate COVID-19 risks in football include:
Reduce the season schedule and only play opponents within the same community, thus restricting travel and increasing the risk of transmission
Enforce players, coaches and staff to wear masks outside of physical activity on the field
Avoid locker rooms as much possible; send players in small shifts inside to change and hold pregame, halftime and postgame meetings in an outdoor space
"Will that be enough for the benefits to offset the risks? I don't know," Binney said. "I would rest easier with kids transitioning to sports with less contacts and fewer team members. I would love if every football player could take the year off and play tennis, track or golf, but I don't know how feasible that is."
Until there's a vaccine or cure, USA Football recommends teams only return to regular practices and games once a team's local area has no restrictions on the size of group gatherings and public health authorities allow facilities to reopen. "Under such circumstances, regular practices and games might be appropriate to resume if participants pass relevant pre-activity screening procedures and all live in the same community," USA Football wrote, suggesting that a reduction of a team's schedule may be necessary.
USA Football has developed a phased approach to returning through guidelines from the Centers for Disease Control and Prevention. Teams are supposed to apply gating criteria from local public health authorities before moving to each phase.
Phase 1: Concentrate on workouts and drills, limiting practices to 10 or fewer people (including coaches) who must stay within their groups at stay at least 6 feet apart. No equipment can be shared.
Phase 2: Practices can include up to 10 people when inside or 50 people when outside while maintaining five to 10 players per station-based activities. Individual drills should happen either without contact or against bags or soft surfaces. It's recommended bags and sleds should be sanitized between each use. Passing, kicking, punting and shotgun snaps are allowed, but no hand-offs or snaps under center in order to maintain physical distancing.
Phase 3: Activities that can be considered include modified flag football and 7-on-7 games, and modified tackle practices (up to 50 people in small groups). Player-to-player contact can be gradually introduced within small groups, including blocking and tackling. Larger group drills, such as 7-on-7 skeleton and 11-on-11 team can be used but remain non-contact.
Krueger said flag and limited tackle contact are both in Phase 3 because that closely aligns to CDC and NFHS guidelines for larger gatherings while maintaining social distancing. Also, youth will need to have some contact to be physically ready for the sport after many months off without organized sports and physical education classes, Krueger said.
Prior to the USA Football guidelines, Pop Warner released its own guidelines that are less detailed. Butler, who was on the USA Football advisory group for its guidelines, said they are similar in nature by including phased approaches.
"When you talk candidly with people in the business, there are questions about how guidelines will work," Butler said. "The doctors would have everybody living in a bubble and germ-proof. By the time it gets down to the volunteer-coach level, how much does it get lost in translation? I think most will do their best to adhere to best practices."
Butler disagrees with USA Football and others labeling the sport "high-risk" during COVID-19. "We've asked them to change the language," he said. "All you need is a lawyer to see 'high risk.'"
According to Butler, insurance premiums are higher this fall for football because of past sexual abuse lawsuits throughout youth sports and unrelated to COVID-19 or concussion risks. Insurance companies are now adding pandemic exclusions, meaning they won't cover infections that can be traced to games or practices, Butler said.
Butler said he would support more football teams trying flag this year, assuming communities make fields available. "We're hearing a lot that aren't open," he said. Pop Warner teams are allowed to begin seasons on Aug. 1.
Yes, Butler said, football is a contact sport. But he questions how easily the virus can be transmitted by playing football. "It's my understanding that you have to be exposed (to the virus) for 10 minutes or so to get it," he said. "I don't know if that's correct. I read an article that says it's almost impossible to get it at the grocery store unless someone sneezes."
The Centers for Disease Control and Prevention (CDC) said "data are insufficient to precisely define the duration of time that constitutes a prolonged exposure. Recommendations vary on the length of time of exposure, but 15 minutes of close exposure can be used as an operational definition." The CDC noted that while brief interactions are less likely to result in transmission, "symptoms and the type of interaction (e.g., did the infected person cough directly into the face of the exposed individual) remain important."
Products are being made to try to keep football alive this fall. Schutt Sports created a vinyl splash shield to help prevent virus spread on the field. The shield connects to a helmet using Velcro straps and is supposed to try to help block droplets from sweat, coughs and sneezes. Though Schutt acknowledges it's not a cure-all, many NFL, college and high school teams are buying the product at $25 per shield. The NFHS approved the splash shield for use in games.
"It's just marketing at this point," said Koester, chair of the NFHS medical advisory committee. "Obviously, respiratory droplets can get anywhere. My concern with shields is equity. If it helps a little, every parent and school that can afford it will use it and everybody else won't have it. From a rules standpoint, it complies with what's needed for an upper face shield so we can't say no."
'THEY JUST WANT TO PLAY, AND THEY'LL OVERLOOK SAFETY'
Dan Gill, athletic director at The Episcopal School of Dallas, felt cautiously optimistic one month ago that his high school would play football this fall. Now, his pessimism is rising.
His school suspended individual workouts indefinitely due to the spike of cases in Texas. Adding to the confusion for Gill is that his Dallas school plays football games in a conference against schools from Houston and Oklahoma City. "Good luck trying to pair rules with different state and municipality guidelines," Gill said.
Gill's biggest worry: The fear of the unknown and putting athletes and communities at risk. If football does return this fall, he wonders how quickly coaches can be educated on new COVID-19 protocols, not unlike the trainings in recent years for concussions and coaching philosophies.
No matter what his decision is, Gill knows there will be people in his community upset at him.
"We have some parents extremely supportive of the school's cautious approach, and we have other parents saying enough is enough, there has to be some risk that every family is willing to assume, and it's harmful to the community to suspend football for everyone," Gill said. "You don't want this to be a divisive conversation because that's the exact opposite of what sports are about."
Richard Lansky, the strength and conditioning coach at Braden River High School in Bradenton, Florida, worries that coaches and players will come back too hard and too soon to make up for lost time. Inappropriate workouts could cause serious health problems, injuries or even death.
"Everybody needs to realize they're all in the same boat," said Lansky, who created a detailed return to play document for conditioning by high school athletes. "Take your time, set up for the long haul. The rules of physiology and anatomy don't suddenly stop because you have a big game on Friday."
In Miami, Riviera Prep School Athletic Director Mark Schusterman knows he's in the minority in his state about playing football in the fall. His school doesn't play football but he's a board member of the Florida High School Athletic Association, which will ultimately offer guidance.
"Last week, a plan was sent out by the governor and Sen. Marco Rubio's office about bringing football back," Schusterman said. "Part of the plan was social distancing and no contact during practices, and then go play on Friday night for a game. My football coach (at a previous high school) listened to that and said, 'You mean they won't have any contact in the preseason and the first time they have contact is in a game? They won't be ready.' I can't see bringing football back."
Schusterman also understands the financial dilemma. Many high schools use football ticket revenue to help run entire athletic programs. Without fans at football games, some fear that sports will be cut.
"I don't see being able to get large crowds together," Koester said. "The smaller schools may have an advantage with people sitting in cars or ringing around the field in a social distancing manner. A lot of schools are looking at streaming options to get the games for families."
At Serra High School in San Mateo, California, the former home of NFL star Tom Brady, summer conditioning workouts started in mid-June for football players. Coach Patrick Walsh recommends flipping sports by season: Move football into the spring and put baseball and softball in the fall, so coaches, parents and kids have more time to learn to deal with more difficult COVID-19 guidelines for football.
Walsh has heard conversations within California about modified 7 on 7 football. "People are trying to find the hybrid," he said. "You're either playing football or you're not. If you have to modify it to the point it's not football, then you probably shouldn't do much else."
Hassan, the former Pop Warner commissioner in Miami, estimates that 80% of youth and high school teams in South Florida will still play tackle this fall.
"To be totally honest, they just want to play and they'll overlook safety," Hassan said. "It's the culture here. Everyone is gung-ho until it hits home. What do you do if one of your children or coaches or kids on your team get it?"
If there must be football, 7-on-7 would feel safer and better than nothing at all, Hassan said.
"All it will take in South Florida is one or two youth teams saying we're not going to play this year, then everybody will say they're not doing it," he said. "It's a copycat world. But someone has to be first."